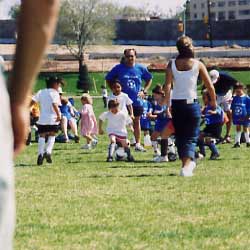 Em did SO well during her first game! She played hard, had quite a few breakaways, and it seemed like she was really trying to control the ball and not just kick it blindly (though they all did a lot of that, too!). Here she's trying to stop the ball before she kicks it.

The woman in the white sleeveless Tshirt is our coach--her daughter Mia is on the team. Deanne played in high school but has never coached before. Like I said, we are all learning together! We are very lucky and have a great assistant coach in Nick, who is another girls' father, and has a real gift for leading the girls.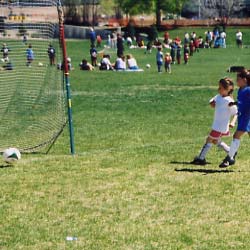 Even though we lost (although there's no scoreboard and the girls--at least on our team--never knew the exact score) Emily was VERY satisfied with the day. She put in the first goal of the game!
Em is playing with three girls from kindergarten, Claire, Amanda, and Hi'ilei. There are four other girls on the team, Mia, Remmy, Jessie, and Maddie. They play four girls on a side, with no goalie. Only 6 of our team were here today, and the girls were real troupers about taking such short breaks.